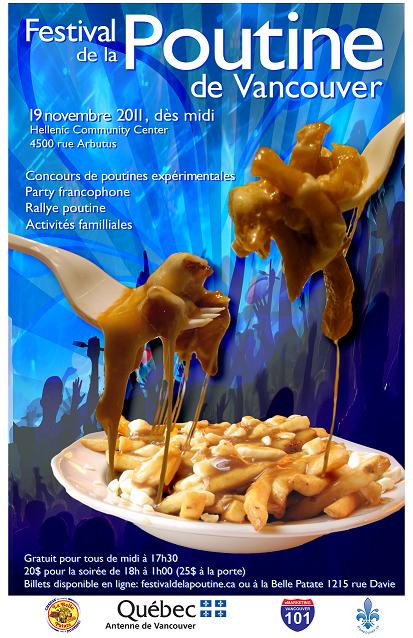 I'm starting to get a bit famous about my quest for the best poutine in Vancouver. And then I was directed to the upcoming Festival de la Poutine, on November 19th.
Organized by the Francouver group in association with the Vancouver antenna of the Québec Government, La Belle Patate and Vancouver 101, the Festival de la Poutine is a day filled with poutine- and Franco-related activities.
The afternoon is free and family-friendly: temporary tattoos, children's activities and great deals on home-made poutine. For 20$, the wanderers can participate in the poutine rally, an afternoon spent in Vancouver's many restaurants and bars serving poutine.
At 6h00PM, the real fun starts: poutine contest featuring experimental poutines, a chansonnier and a DJ spinning franco music. Tickets for the evening cost 20$ in advance (25$ at the door) and include all-you-can-eat poutine.
Exiled Québecers, Francophiles or poutine lovers: there's something for everyone at the Festival de la Poutine. I'll definitely be there to taste and review the poutines! Be warned though, I might be speaking in French most of the evening!
What: Festival de la Poutine de Vancouver
When: November 19th
Where: Hellenic Community Centre, 4500 Arbutus
More info: Evenbrite or Francouver.ca
Disclaimer: I wrote this post on my own. I wasn't contacted by anyone in the Festival's organization. I just think it's awesome and wanted to write a little thing about it. I'm not big enough for people to start pitching me stuff anyway. :p